The World of The East
Making a movie that takes place during one of least talked about events in our national history is bound to come across some obstacles during the process. From floods to scorpion bites during production. Protesting veterans or non-co-operating governments. One of the biggest hurdles was to do justice to the different groups that relate to this story. Being limited in time on screen, it was impossible to do a deep dive into all historical characters and still tell the story of Johan (Martijn Lakemeier), a young Dutch recruit fighting in the Indonesian War of Freedom but who joining a special elite force is forced to reconsider his believes.
A solution was sought to give more historical background the other characters and to the Indonesian War of Independence in general.
We teamed up with Lyangelo Vasquez of Hyper Epic, educator Jazzy Taihuttu and dedicated historian to the EAST project Edward Liddiard to create a platform on which we explore the historical backgrounds of five main characters in the film. The perspective of the Dutch soldier Johan, the Indonesian freedom fighter, civilians, the Moluccan KNIL soldiers and the Dutch government. Resulting in an online portal in which viewers can discover timelines and related subjects. The portal keeps you up to date about live events and offers specially developed educational materials and workshops for high schools. Contributing to remembering this part of our nation's history.
Watch 2 minute casefilm The World of the East.
Watch screengrab platform The World of the East.
Package of educational materials and workshops distributed to schools throughout the Netherlands. Now becoming part of Dutch history curriculum at high schools.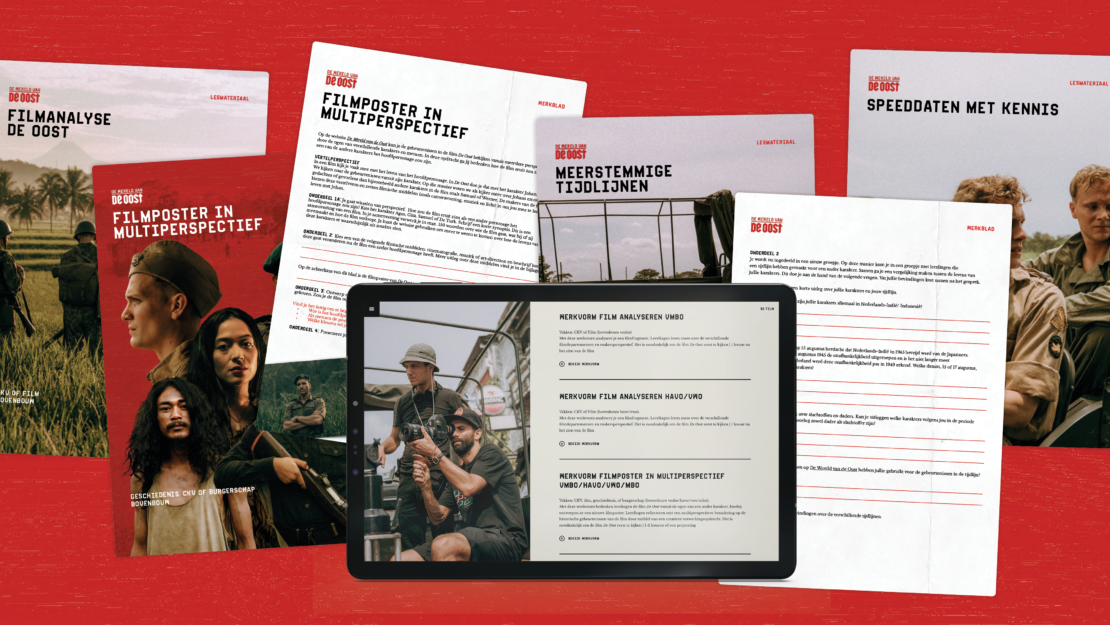 Creative Director - Editor in Chief

Lyangelo Vasquez - Hyper Epic

Creative Impact Producer

Ariadne Asimakopoulos

Head of Education

Jazzy Taihuttu

Web Developer - Web design

Sander de Vogel

Researcher

Edward Liddiard

Creative Strategist - Creative Direction

Christoph van Veghel

Camera/Photography Indonesia

Milan van Dril

Camera Indonesia

Daan van Citters

Director Indonesia

Julius Ponten

Photography Netherlands

Stella Matthes

Camera Netherlands

Bram Engelaar

Graphic Design

David Sporken

Creative Direction

Giuseppe du Crocq

Film Producer

Sander Verdonk

Film Producer

Jelani Isaacs